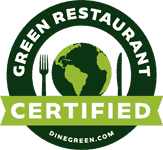 Green Dine Your Way Around Yellowstone
While traveling around Yellowstone National Park you can now find yourself eating at four different Green Restaurant certified fountains. Canyon General Store Fountain, Fishing Bridge General Store Fountain and Grant General Store Fountain recently joined the Old Faithful Basin Store's Fountain in becoming Green Restaurant certified by the Green Restaurant Association (GRA). GRA is a national nonprofit organization that helps restaurants become more environmentally sustainable. To become a Level 1 Certified Green Restaurant, each General Store Fountain implemented around 30 steps to reduce environmental impacts.
Highlights of Green Accomplishments include:
Styrofoam-free environment
Full scale recycling and composting program
100% compostable or reusable dinnerware
Use of LED light bulbs
Reduced waste by about 50% through recycling
High efficiency pre-rinse spray valves, which help save energy and water
With four Green Dine Certified locations spread around Yellowstone National Park, it's easy to minimize your environmental footprint while still eating a delicious meal. Yellowstone General Stores' Fountains serve all-beef hamburgers, local ice cream, vegetarian options, and more. Each Yellowstone General Store and Fountain is unique in its own way.
The Green Restaurant Association is a national non-profit organization that provides the only official Certified Green Restaurants® mark in the country. For 27 years, the GRA has pioneered the Green Restaurant® movement and has been the leading voice within the industry encouraging restaurants to listen to consumer demand and green their operations using transparent, science-based certification standards. With their turnkey certification system, the GRA has made it easy for thousands of restaurants to become more environmentally sustainable in a profitable manner. The GRA has been featured on CNN, NBC Nightly News, NPR, and in The New York Times, and The Washington Post.