Top 10 Winter Activities
No matter what the temperature is outside, there is endless fun to be had in and around Yellowstone National Park. Here are our Top 10 Things To Do during the winter season. Check them out!
Winter Packing Checklist
Are you planning a winter trip to Yellowstone National Park and not quite sure what you need to bring with you? Our
Winter Packing Checklist
can help! Get suggestions for clothing, toiletries, technology, and more that you may want to pack, as well as some items that may already be provided for you by our hotels and cabins!
1) Snowmobile Tour through Yellowstone National Park
Are you ready for the thrill of a lifetime? Take one of our guided Snowmobile Tours and experience the majestic winter wonderland of Yellowstone; a sight most visitors never get to experience. Feel the rush of the wind as you speed through the snowy landscape, view wildlife foraging for food under layers of snow, and to top it all off you'll witness an eruption of Old Faithful geyser in winter! Our professional certified guides will teach you everything you need to know about riding a snowmobile, and will take you to some of Yellowstone's most spectacular vistas where you can capture that dream photograph and learn fascinating facts about the Park.
Click
here
to learn more!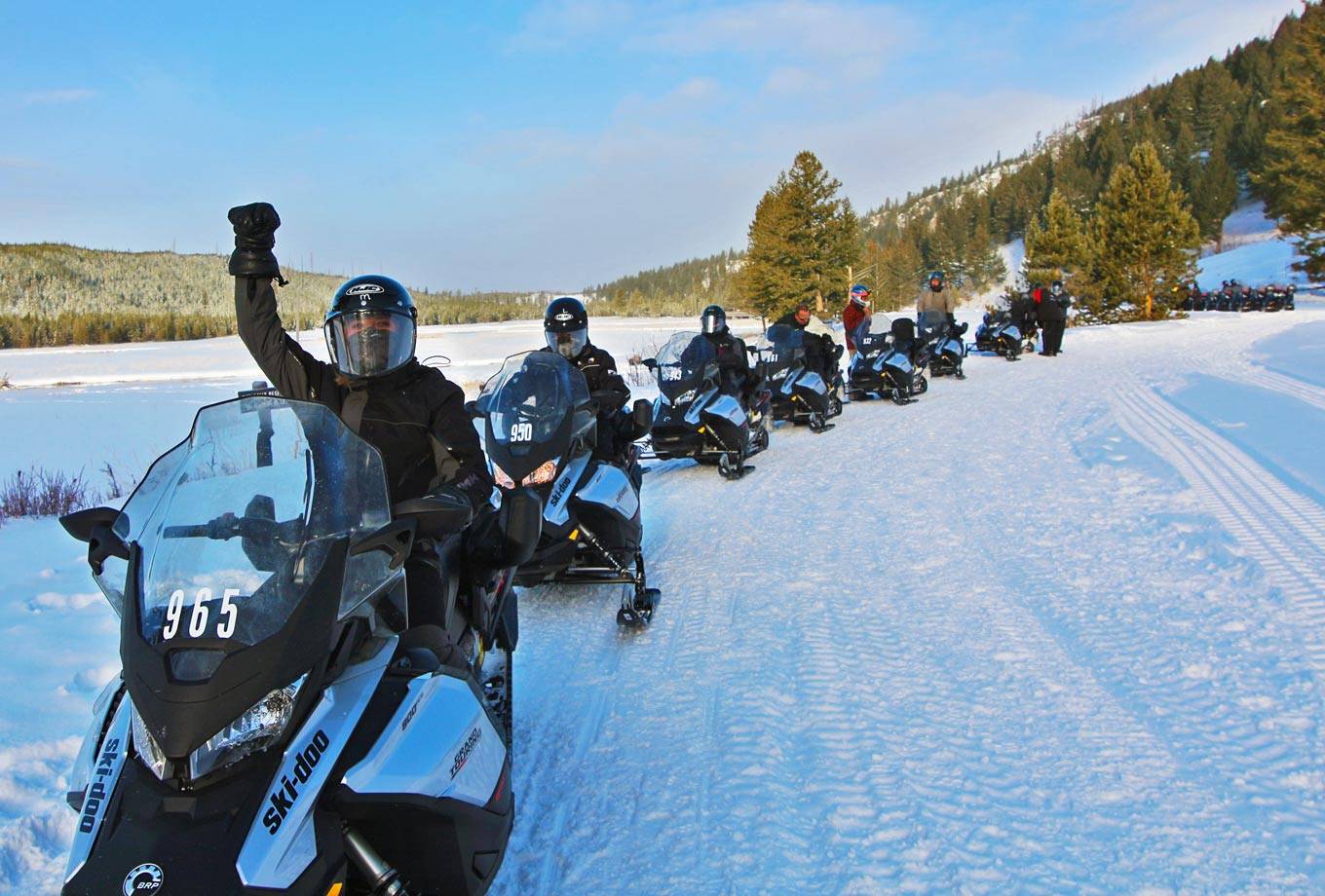 2) Yellowstone National Park Snowcoach Tour
No winter vacation in Yellowstone National Park is complete until you've experienced a thrilling and engaging Snowcoach Tour! Our professional certified guides will share their vast knowledge with you as you sit back and enjoy the stunning scenery and wildlife! All of our coaches have over-sized windows and excellent heaters, so you'll be warm and toasty while enjoying some prime viewing no matter where you are seated, and we make several stops for you to get out and take pictures. Tours to Old Faithful are available, as well as tours to the Grand Canyon of the Yellowstone. Private and custom tour options are also available.
Snowcoach Tours run daily during the winter months, and depart from either
West Yellowstone, MT
or
Gardiner, MT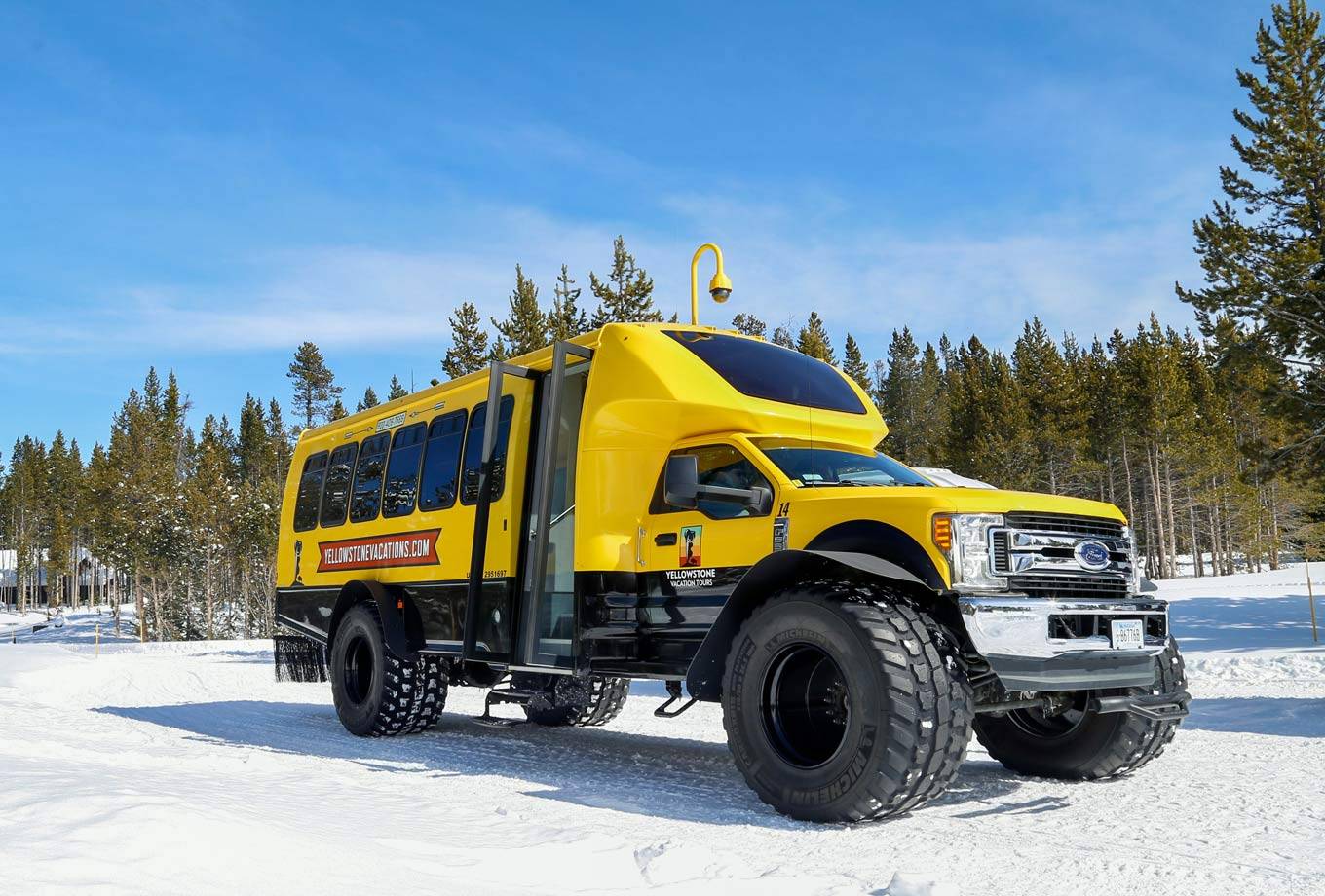 3) West Yellowstone Snowmobile Rentals
Did you know the area surrounding West Yellowstone is filled with some amazing snowmobile paths? It's true! West Yellowstone is widely known in the snowmobiling community as one of the best snowmobile locations in North America. Some even go so far as to call us the "Snowmobiling Capital of the World"! While snowmobiling through the Park, there are many regulations that must be followed, including speed limit, required guide, riding formation, and the type of snowmobile that can be used. Outside the Park however, the sky is the limit, and there are literally HUNDREDS of miles of trails available in the surrounding National Forest, some of which start right in town. Yellowstone Vacation Tours offers five different models to choose from, so pick out a model that suits you, select a trail, and off you go!
Click
here
to learn more!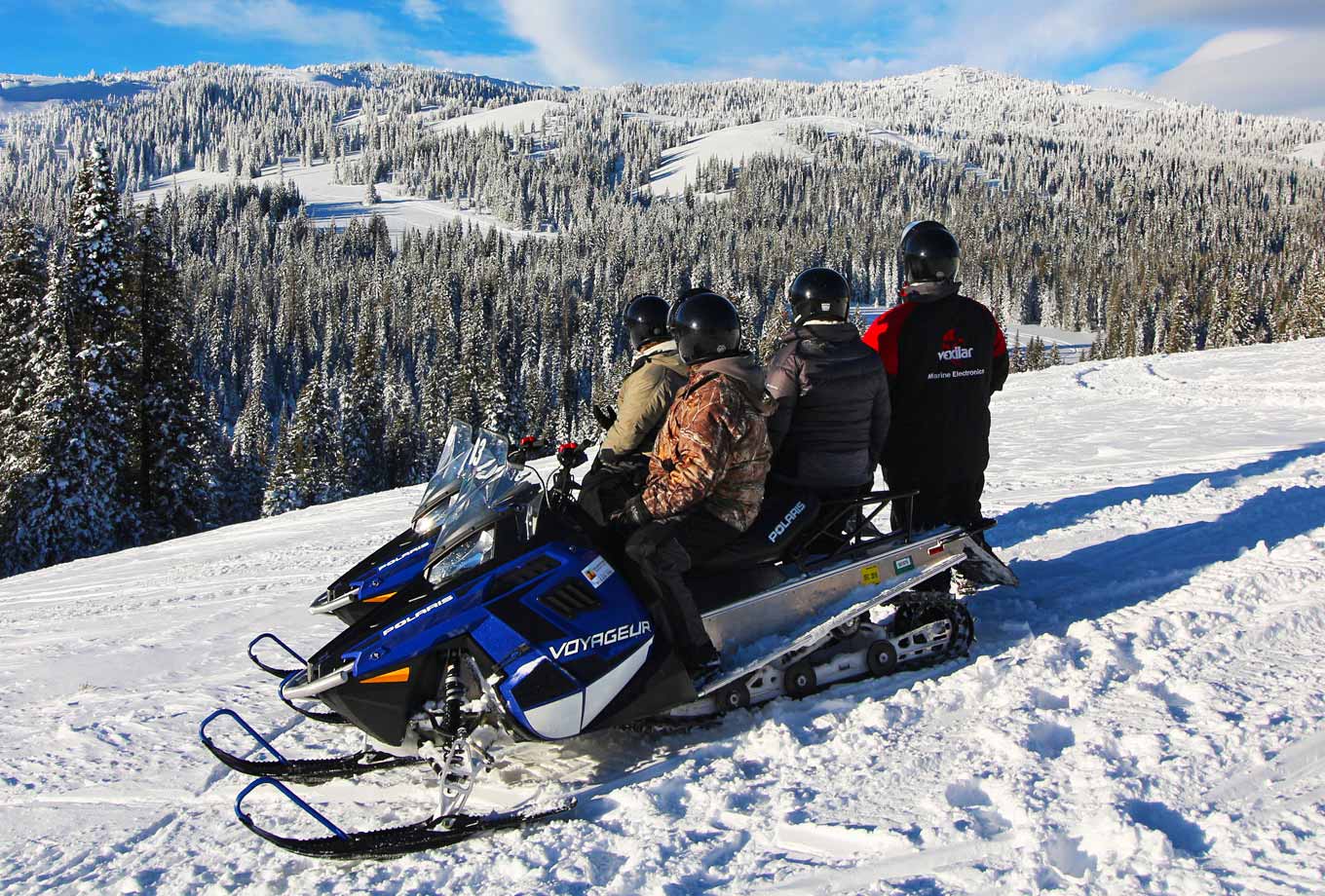 4) Snowshoeing and Cross-Country Skiing
Snowshoeing offers a fun and easy way to see Yellowstone National Park in the winter. And today's snowshoes are a far cry from the clunky equipment of yesteryear; they're made with aircraft-grade materials, are easy to slip on and off, and take about two minutes to master. Local snowshoe outfitters cater to beginners and offer snowshoeing tours lasting from two hours to full days.
Cross-country skiing is another fun and easy alternative to explore the Park and surrounding areas. Right next to our hotels and cabins in West Yellowstone is the famous Rendezvous Ski Trail system where you can ski more than 35 kilometers of gently rolling, beautifully groomed trails. The Old Faithful area provides another very special hub for Yellowstone cross-country skiing. Trails fan out from the geyser area to circle the Upper Geyser Basin and lead to many sights and points of interest.
Ski Rentals and Classes from Freeheel & Wheel
View a map of the Rendezvous Ski Trails in West Yellowstone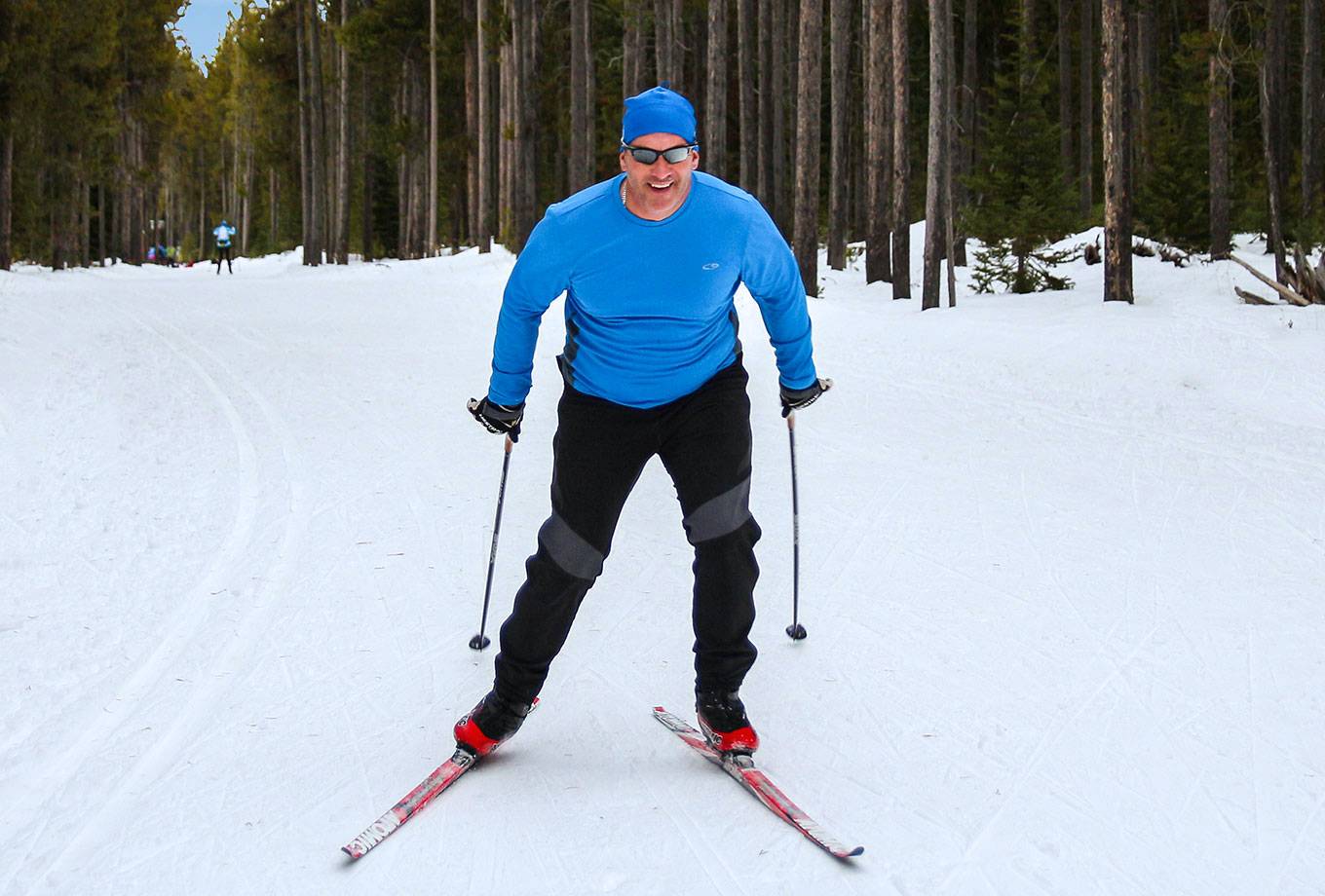 5) Fat Tire Biking
Fat Tire Biking... What is it? A Fat Tire Bike is an off-road bicycle with oversized tires designed for low ground pressure to allow riding on soft unstable terrain, a.k.a. snow! With so much to see in the Yellowstone area, a bike ride is an enjoyable way to get out and about. If you know how to ride a bicycle, you can ride a Fat Tire Bike! Fat Tire Bikes are currently not allowed within Yellowstone National Park, but this is a fun, adventurous way to explore the hundreds of miles of trails in the surrounding National Forest.
Click
here
to learn more!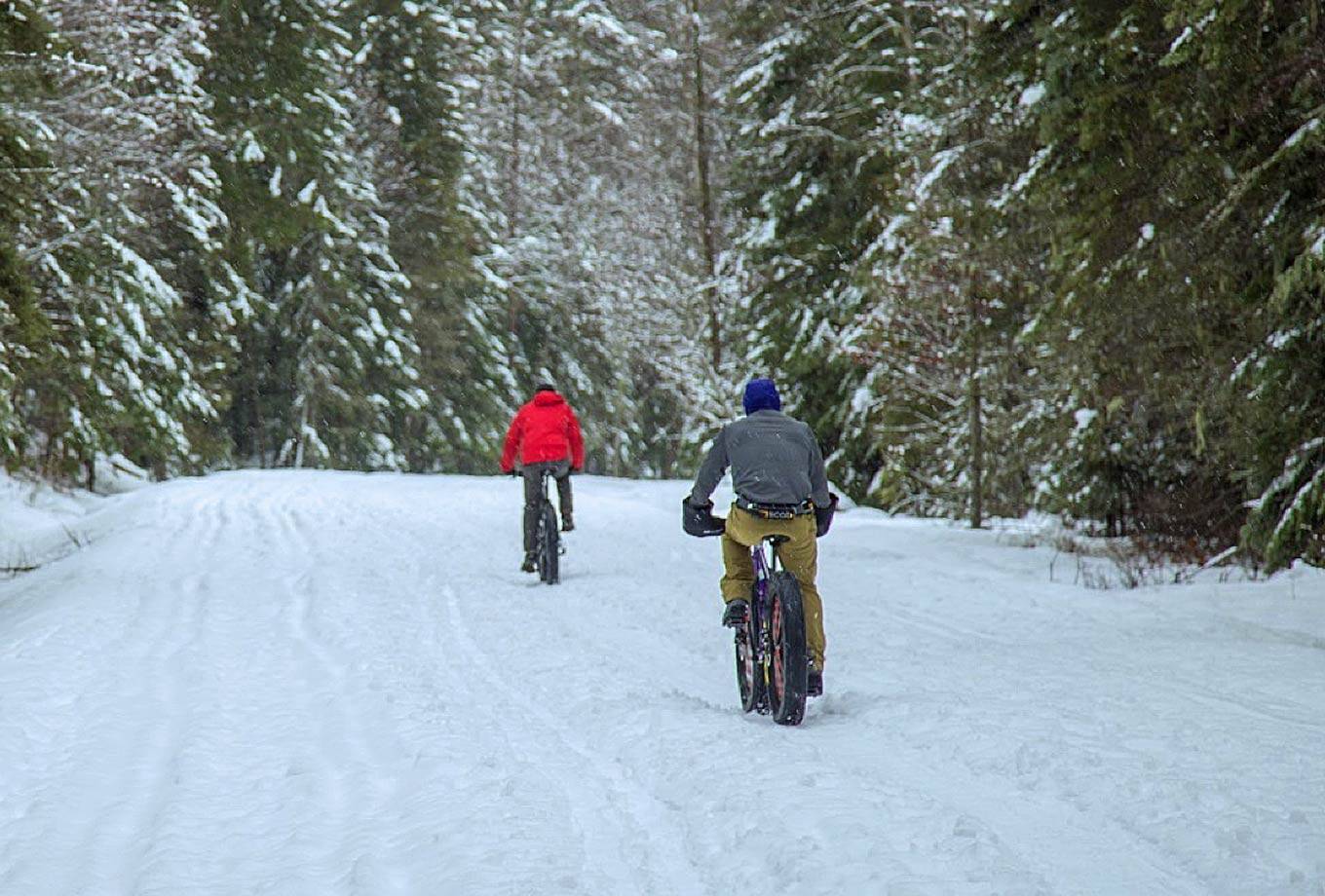 6) Dog Sledding
Admit it, you know you've always wanted to say "Mush! Mush!" If dog sledding is on your bucket list, it's time to check it off. Experience the thrill of captaining a team of gorgeous sled dogs, or visit during one of the West Yellowstone dog-sledding races to see the best racing action in the region. Our friends at Yellowstone Dog Sled Adventures will create a truly memorable experience for the whole family!
Click
here
to learn more!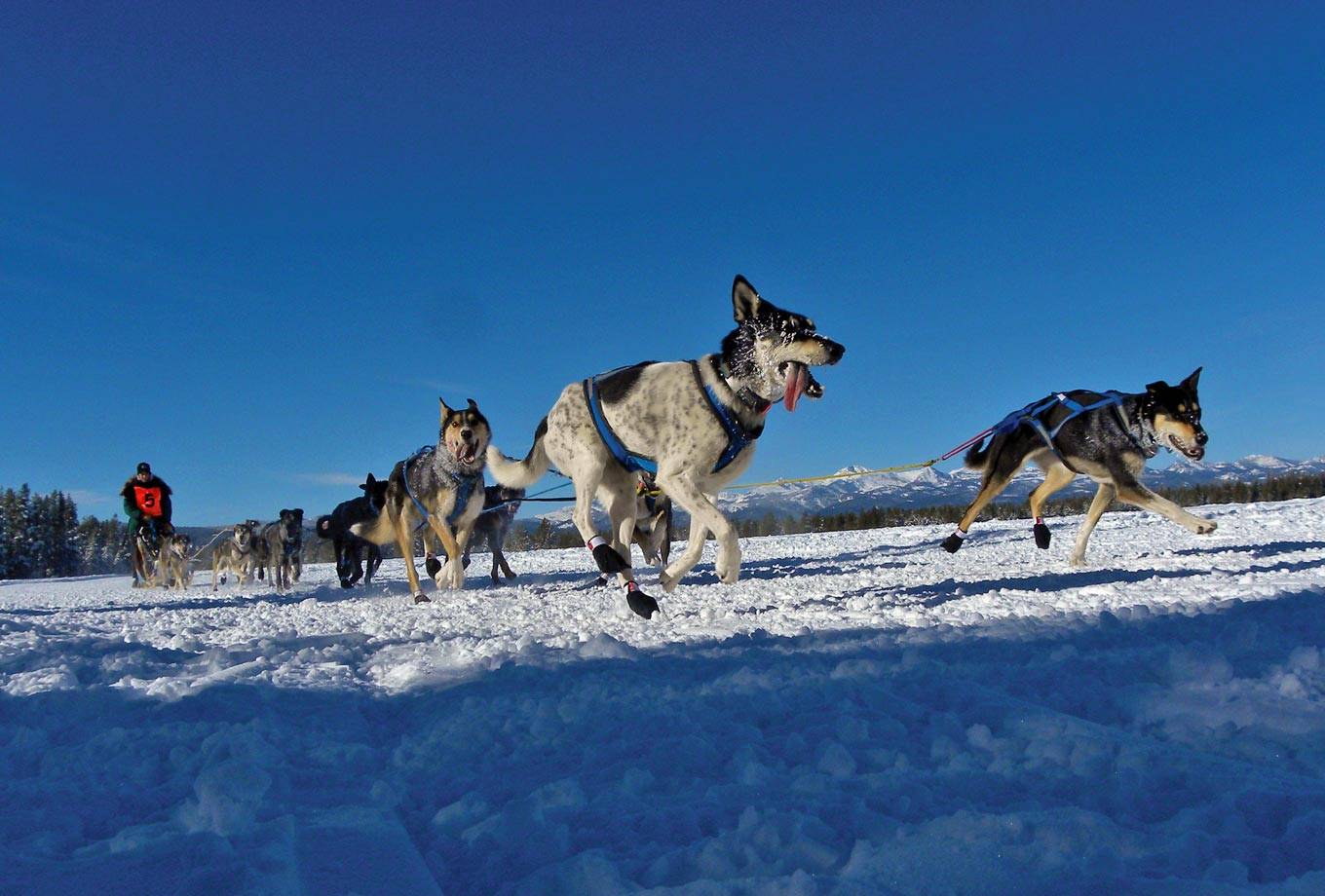 7) Ice Fishing
Whether you're a seasoned veteran or just discovering how exciting ice fishing can be, the Yellowstone region is a perfect place to bring your spud bar and catch a laker or two! Hebgen Lake, located just north of West Yellowstone, is one of the best fishing spots around, with at least a foot of solid ice during the winter season and a healthy stock of trout and gulpers. Book a few nights at our hotels and cabins any time during the winter season, and plan the ultimate ice fishing vacation.
Click
here
to learn more!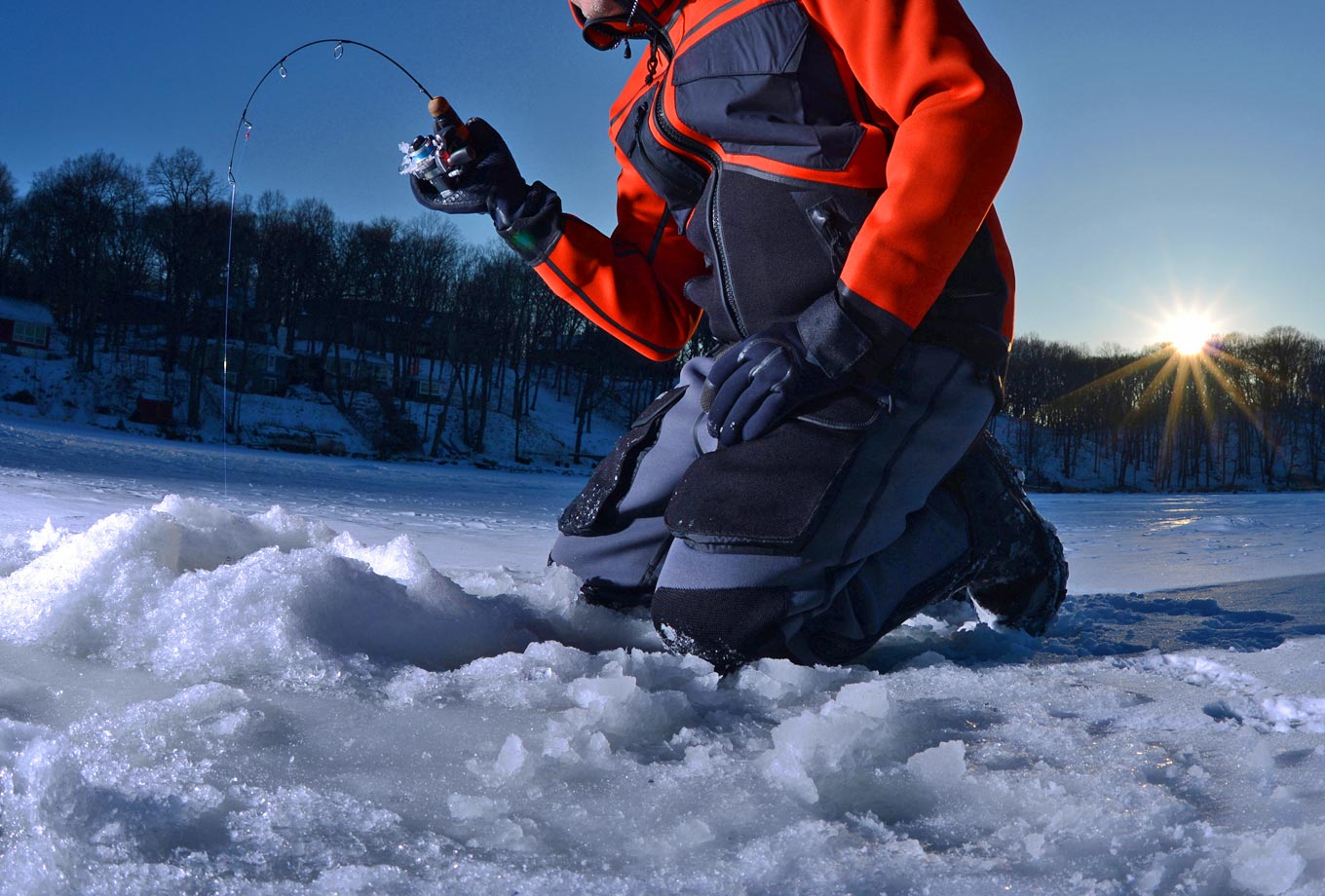 8) Visit the Grizzly & Wolf Discovery Center
If the weather outside is too cold, then head on over to the Grizzly and Wolf Discovery Center. Located in West Yellowstone, directly across the street from Gray Wolf Inn & Suites and the Explorer Cabins at Yellowstone, this place offers a fun and interactive way to experience the world of grizzly bears and gray wolves. The Grizzly and Wolf Discovery Center appeals to visitors of all ages, and gives you the unique opportunity to get up close and personal - safely! - with some of Yellowstone's most amazing and powerful predators.
Click
here
to discover more!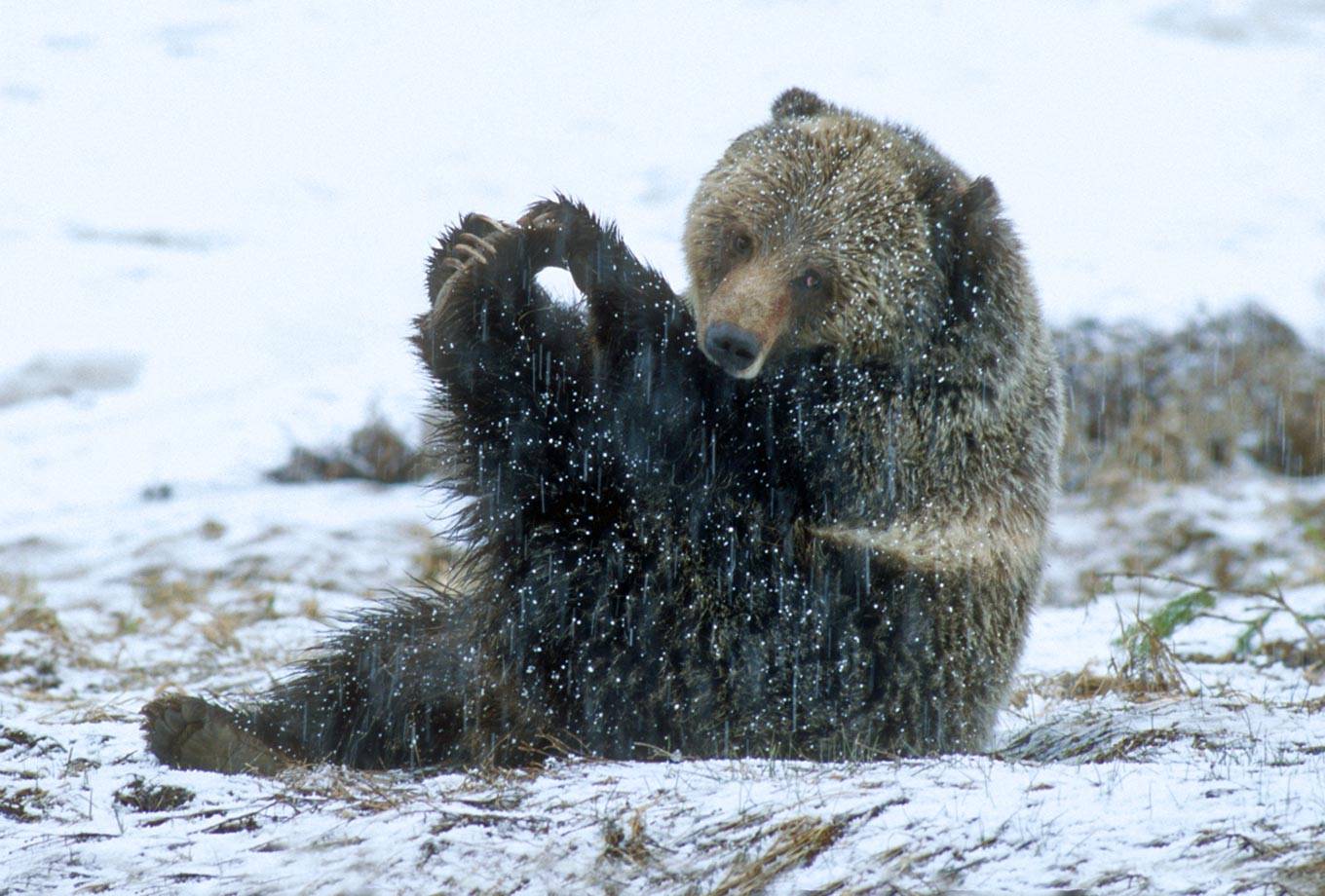 9) Sledding
Always a winter favorite among kids and adults! Grab a sled and enjoy a day on the hills sledding! Take advantage of the fantastic sledding hill at West Yellowstone City Park, or head out into the National Forest and find your own! For families, make sure to check out
Kids N' Snow
in West Yellowstone. In addition to sledding, kids also have the opportunity to try out cross-country skiing, snowshoeing, and ice skating in a safe environment with local experts. This event happens one weekend a month during the winter season and provides many fun activities your kids will enjoy!
Click
here
to learn more!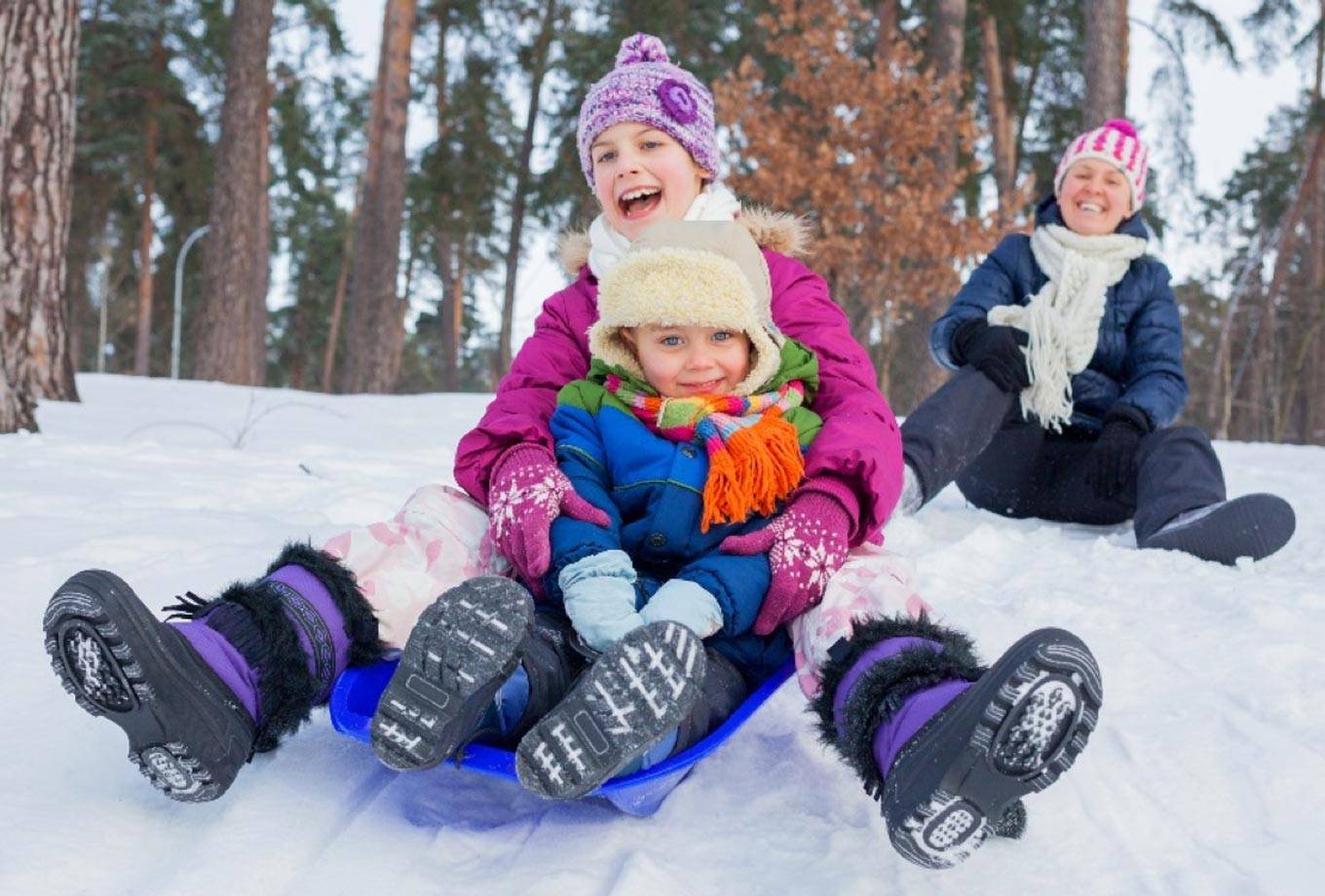 10) Skijoring SJUSA National Finals - Feb 29-Mar 1, 2020
There's nothing more western than mixing horses with skiers! Skijoring is a highly specialized sport where a skier must navigate a series of jumps, gates, and rings while being pulled behind a horse with a 30-foot rope. Competitive skijoring races are currently taking place in over 8 states in the USA, and it just so happens that the SJUSA National Finals will be held in West Yellowstone!
Click
here
to learn more!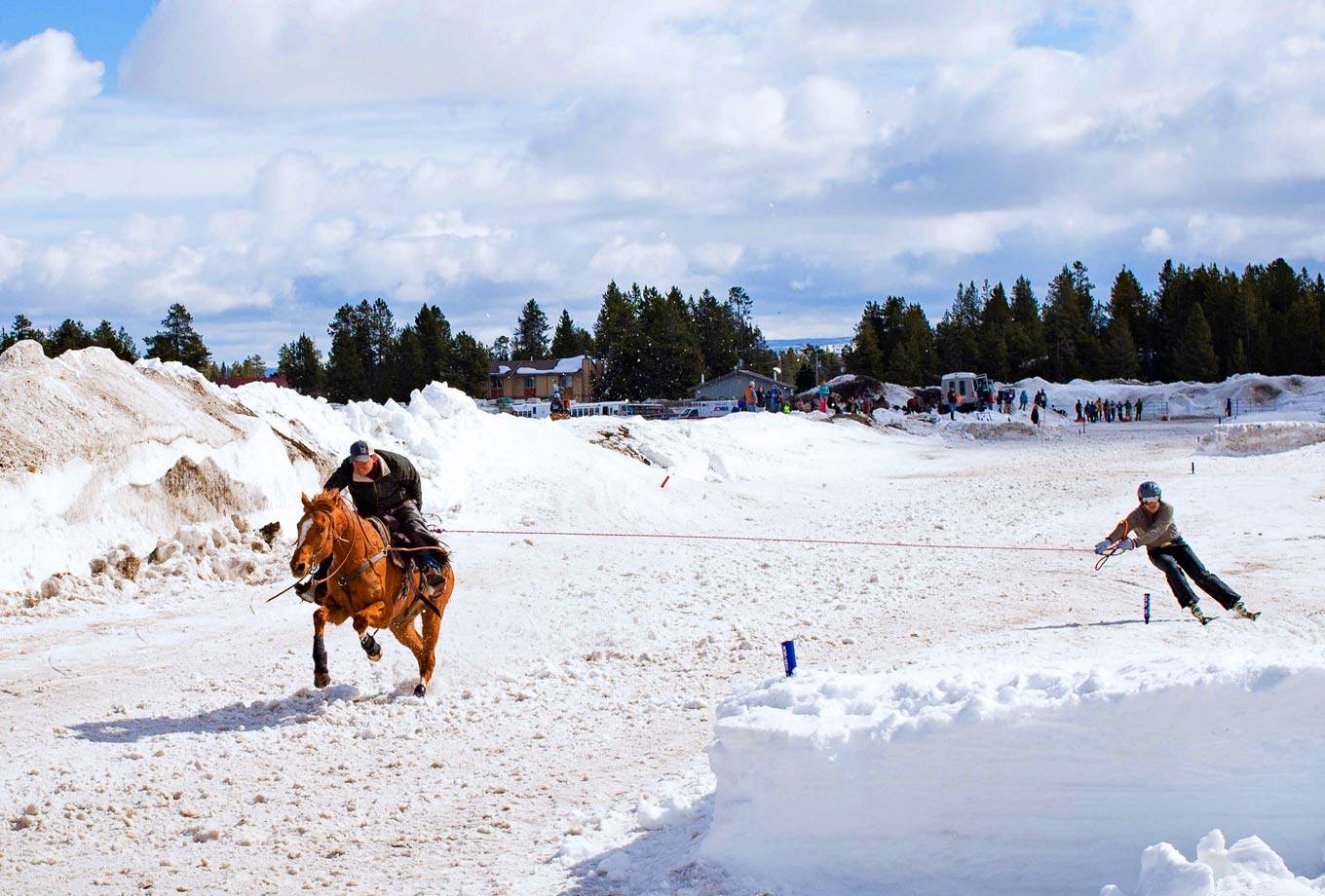 These are our Top 10 Things To Do when you visit Yellowstone National Park and the surrounding communities this winter. There are many more, so make sure to book a room today to discover all that Yellowstone has to offer.
Explorer Cabins at Yellowstone

Gray Wolf Inn and Suites

Holiday Inn® West Yellowstone